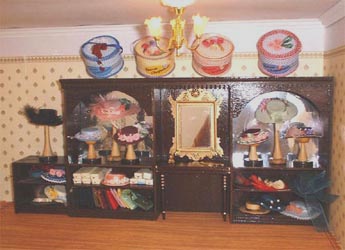 Having saved the best almost till last, I started work on the upper sales floor.  This is definitely a "ladies only" area.

My first make was the shelf unit, incorporating dressing table, to display hats, handbags and other accessories.  In my usual fashion I made it to fit perfectly against the left hand side wall, but then decided it looked much better against the back wall at the right.


I wanted to have a shoe department too.  As part of a very strange swap I'd received some painted metal boots, so these would be on display.  The only leather shoes I'd made had been flatties, and I wanted ones with heels, so I made some out of air drying clay and painted them.  Although no two ended up exactly the same size and shape, by the time I'd decorated them and put them into boxes or into hands this discrepancy didn't show at all, thank goodness.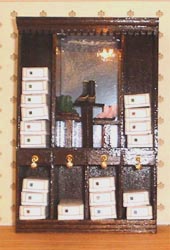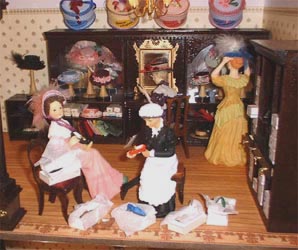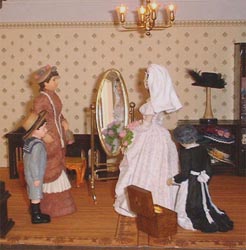 In the central area, between the pillars, I have a bride having the final adjustments made to her dress.  Her small brother is so amazed at her transformation that he is standing still for once.  Since taking this photograph I've changed the mirror, and altered the arrangement, but I can't take a new photograph at the moment because my old camera isn't compatible with my new computer setup.  I'll replace the photo as soon as I can.  (If you look at the kneeling lady, and the office lady on the previous page,you may notice that the shoe sales lady has the former's head on the latter's body, with the arms repositioned and the dress overpainted.)

I've now been working on the emporium for a full year.  If you would like to see a photograph of how it stood on its first anniversary, please click the Next button below.